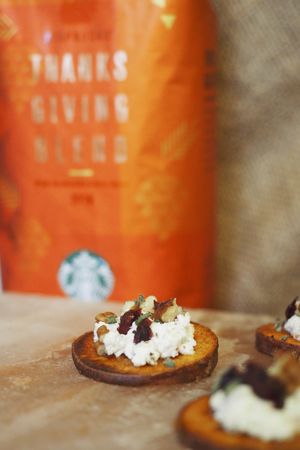 There is a small window, right before the Christmas mania begins, where Starbucks Thanksgiving blend appears in stores. Thanksgiving blend was created in partnership with Seattle restauranteur Tom Douglas in 2008. The goal was to create a blend that could pair with both sweet and savory foods, a culinary coffee to compliment a Thanksgiving feast. Ten blends were created, but Tom and master blender, Anthony Carrol, narrowed it down to two. Tom cooked a Thanksgiving feast, and paired the two coffees with the meal. When paired with the herbed stuffing, one coffee stood out.
Thanksgiving Blend has become a tradition is many homes over the past 8 years. It is a blend of coffees from Sumatra and Guatemala, spicy and full bodied with subtle herbal notes.
Thanksgiving blend is a dark roast coffee with a medium acidity and full body. Earthy and herbal, with hints of lemon and cocoa, this coffee pairs well with so many different types of food, both sweet and savory. This is a coffee made to be paired with food, but especially cheese, herbs and warm spices.
I wanted to combine the essence of fall without doing anything traditional, which is not an easy task. I personally love Thanksgiving Blend with pumpkin pie, but I wanted to do something different. Whenever I think of Sumatra, I think of cheese. When I think of Guatemala, I think of warm spices like cinnamon, so I set off to create an Autumnal pairing, a play on bruschetta!
Growing up in Northern California, I was spoiled by some of the best goat cheese in the world, and I love pairing Sumatra with goat cheese. I wanted to add specific flavors to highlight the herbaceousness in the Thanksgiving blend. Using sage to bring out the woodsy notes and pink peppercorns to bring a little bit of heat and a touch of floral to kind of brighten things up. Instead of using bread, I rubbed sweet potatoes with olive oil and cinnamon, roasted them and then topped them with the goat cheese and pecans and cranberries. This is one delicious bite that just screams fall.

Cinnamon rubbed sweet potatoes topped with pink peppercorn & sage goat cheese
Ingredients
1 sweet potato washed and cut into ¼" rounds
Oilve oil
Ground cinnamon
sage goat cheese
4oz of plain goat cheese
2-3 fresh sage leaves, finely chopped
½ teaspoon pink peppercorns, crushed
pinch of salt
for serving
pecans, chopped
dried cranberries, chopped
fresh sage, minced
Instructions
Preheat oven to 400.
In a small bowl combine olive oil and cinnamon with the sweet potato rounds. Make sure all of the rounds are evenly coated with oil and cinnamon. I rubbed them by hand to ensure an even coat.
Lay rounds on a cookie sheet, in one layer, and bake in oven for 20 minutes. Flip rounds and bake for another 10-15 minutes. Watch them closely, as you don't want them to burn.
While you are roasting the sweet potatoes, combine the goat cheese, sage, pink peppercorns and salt in a small bowl. Mix until combined. I let the bowl sit on my stove to help warm it up.
Once the rounds are done, take them out of the oven, and top with a small spoonful of the goat cheese mixture. Place the rounds back in the oven for a few minutes. Remove from oven and top with chopped pecans, cranberries and sage.
What are some of your favorite Thanksgiving Blend pairings?