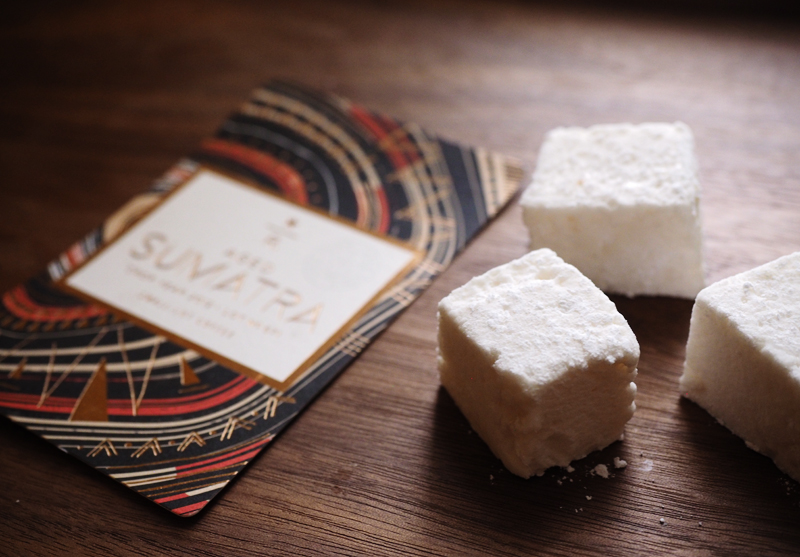 Aged Sumatra is back in reserve stores this month, and I am so happy! Aged Sumatra is something I look forward to every year, and it's what makes some of our seasonal coffees so special. The cedary and spicy notes you find in Anniversary blend and Christmas blend are due to the aged Sumatra. This lot, lot number 571, has been aging for 4 years! It might sound like a long time, but it is worth the wait. Maple and toasted marshmallow notes with a syrupy sweetness and heavy body.
Why Sumatra? Coffee from Sumatra is grown without shade and the processing methods used generally produce a sweeter, smoother coffee. This coffee is perfect for the aging process which, especially in the case of this lot, and produce an intense sweet, syrupy flavor, reminiscent of maple syrup. The aging process deepens flavors, accentuating certain characteristics like maple, butterscotch, leather (yes, leather) and molasses. We've all heard the phrase things get better with age, and this coffee is no exception. From harvest in 2012, to resting in Singapore for four years, and today in my cup, this isn't just a cup of coffee. It's an experience.
I love making marshmallows, I have made them many times before, and I think they are just perfect with coffee. Especially this coffee. There is just something about marshmallows and coffee for me, I love adding it to my cup, and letting it melt a little bit to add more texture and flavor.
Side note, don't you just love my new Sumatra cup?! I love these vintage stamp collection cups and must have them all!!!!!!

Maple Marshmallows
Ingredients
3 packages unflavored gelatin
1 cup ice cold water, divided
1¼ cup sugar
¼ cup pure maple syrup
1 cup light corn syrup
¼ teaspoon salt
1 teaspoons pure vanilla extract
¼ cup confectioners' sugar
¼ cup cornstarch
Nonstick spray
Instructions
Place the gelatin into the bowl of a stand mixer along with ½ cup of the water. Have the whisk attachment standing by.
In a small saucepan combine the remaining ½ cup water, granulated sugar, maple syrup, corn syrup and salt. Place over medium high heat, cover and allow to cook for 3 to 4 minutes. Uncover, clip a candy thermometer onto the side of the pan and continue to cook until the mixture reaches 240 degrees F, approximately 7 to 8 minutes. Once the mixture reaches this temperature, immediately remove from the heat.
Turn the mixer on low speed and, while running, slowly pour the sugar syrup down the side of the bowl into the gelatin mixture. Once you have added all of the syrup, increase the speed to high. Continue to whip until the mixture becomes very thick and is lukewarm, approximately 12 to 15 minutes. Add the vanilla extract during the last minute of whipping. While the mixture is whipping prepare the pans as follows.
Combine the confectioners' sugar and cornstarch in a small bowl. Lightly spray a 13 by 9-inch metal baking pan with nonstick cooking spray. Add the sugar and cornstarch mixture and move around to completely coat the bottom and sides of the pan. Return the remaining mixture to the bowl for later use.
When ready, pour the mixture into the prepared pan, using a lightly oiled spatula for spreading evenly into the pan. Dust the top with enough of the remaining sugar and cornstarch mixture to lightly cover. Reserve the rest for later. Allow the marshmallows to sit uncovered for at least 4 hours and up to overnight.
Turn the marshmallows out onto a cutting board and cut into 1-inch squares using a pizza wheel dusted with the confectioners' sugar mixture. Once cut, lightly dust all sides of each marshmallow with the remaining mixture, using additional if necessary. Store in an airtight container for up to 3 weeks.
Have you made marshmallows before? I have been thinking about making a marshmallow to pair/compliment each of the core coffees. Would anyone be interested in that? Let's talk about it 🙂