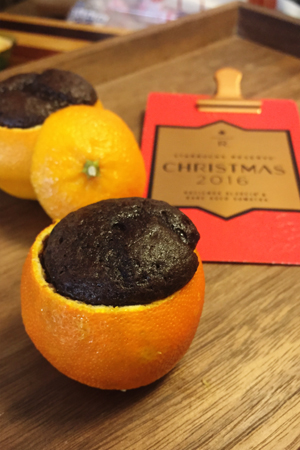 I really wanted to make campfire oranges to pair with the Christmas Reserve … but then winter happened. It came fast, and I  have never lived in a place where it snows, and I greatly underestimated what winter would be like in the mitten. It's cold, it is dumping snow, and I am not about to go outside and build a campfire. Plan B, make them in the oven instead 🙂
This recipe calls for a box cake mix, so it is super quick and easy to put together, and it looks pretty impressive as well! Baking the cake inside the orange adds a lot of moisture and flavor to the cake. No need for frosting or a glaze, though you can if you'd like. These little cakes are delicious by themselves!
The first thing you'll want to do is to prepare the oranges. I used "cuties" because they are the right size for a small tasting, but you could use a full sized orange if you wanted to. (The bake time would vary though). To do this, you will need to cut the tops off of the orange, set aside in case you want to use them as 'tops'. The most tedious part is removing the pulp of the orange. You want to do this without damaging the skin. You can use a spoon, but I found using my hands was the easiest and quickest way to remove the pulp. Try to remove as much as possible, as leaving too much will not only not allow for as much batter, but it will also add too much moisture into the cakes. What to do with the extra pulp? You can toss it, compost it, I made a simple syrup with it.. it is totally up to you.
Once the oranges are hollowed out, it is time to fill them. Using a box cake mix, make per the instructions on the box. You could make one from scratch if you want to as well. I used a mini cupcake tin to keep the oranges from rolling around. Fill the oranges no more than half way with batter. The batter will rise, and they will overflow! One box of cake mix will fill a lot of oranges! I only filled 12 and reserved the rest of the batter for plain chocolate cupcakes. If you want, you could add orange zest, cinnamon, cloves or any other spices to the batter. Totally up to you!
Bake these per the instructions on the box, checking the doneness after 12-14 minutes. These cupcakes do retain a lot of moisture, so they might look underdone.(I baked mine for 16 minutes)
Once these are done, let them cool and you can frost them if you like, but there is really no need to do so! They are perfectly moist and delicious just the way they are. I think it is cute to put the orange top back on the orange, and then the taster removes the top and there's a cake inside!
To learn more about this special coffee, please check out my other posts & recipes!