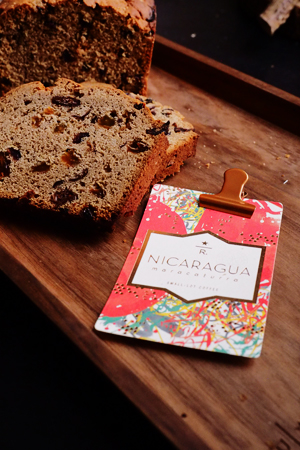 I had actually planned this recipe to go live on National fruitcake day.. which was three weeks ago. I am a little bit behind with posts and recipes, but better late than never, right? 😉
Nicaragua Maracaturra has become one of my favorite reserve coffees. First of all, I love the beans. They are enormous! Second the flavor profile has really captured me. Subtle floral sweetness with spice notes of clove and allspice woven together, and finished off with a creamy vanilla mouthfeel. This is a coffee that can go in so many different directions, from baking spices, to chocolate, to apples and nuts. It is one of those coffees you can almost pair with anything!
Even a fruitcake?!
The idea for this came about during the Fruitcake frappuccino promotion. If you somehow missed that, it was a hazelnut creme based frappuccino with packets of dried fruit blended in. This was wildly popular at my store and brought up the topic of fruit cake, and how gross it is. True, fruitcake from the store with all of those fake neon "fruit" chunks is pretty gross, but if you use real ingredients, it's bound to be good, right?
Since we had so many packets of dried fruit, I made it my goal to bake something with them, and I knew the Nicaragua Maracaturra would be a perfect match.
Coffee fruit cake
Ingredients
1¾ cups mixed dried fruit (I used the dried fruit for the perfect oatmeal)
⅔ cup light brown sugar, packed
1¼ sticks of butter, room temperature
1 cup brewed Nicaragua Maracaturra
2¼ cups flour
1 T baking powder
2 teaspoons ground allspice
1 large egg, beaten
butter or apple butter for serving (optional)
Instructions
Put the dried fruit, sugar, butter and coffee in a large saucepan and heat gently, stirring occasionally until the butter has melted and the sugar has dissolved. Remove from heat and let cool for 30 minutes.
Preheat oven to 350 degrees. prepare a 9" loaf pan with butter or cooking spray.
Sift the flour, baking powder and allspice into a large bowl. Make a well in the center and pour the fruit/coffee mixture and beaten egg. Stir until throughly mixed.
Pour the batter into the prepared pan and smooth the surface. Bake for 50 minutes, and then cover loosely with foil, and return the loaf to the oven to bake for an additional 20 minutes.
Let cool in pan for 10 minutes and then turn out onto a wire rack to cool. Serve with butter or apple butter if desired.
You can find Nicaragua Maracaturra at Reserve sotres and Reserve bars, or on
StarbucksStore.com