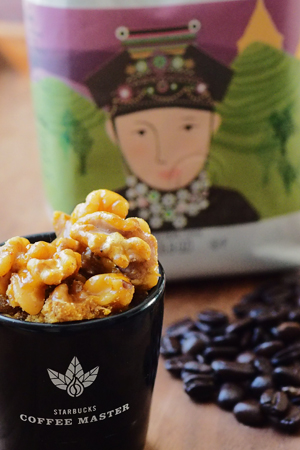 Starbucks Muan Jai blend is not one that you see too often. If you're not in Thailand, your chances are slim to none. Luckily, the Starbucks store will occasionally carry this exclusive coffee from Thailand.
It has been a long time favorite of mine, with it's rich bold flavor, peppery spice notes and it is so smooth and balanced. The flavor notes suggest pairing this coffee with chocolate, nuts and cinnamon. The last time I had this coffee, I paired it with Theo Chocolate curry coconut bar, and I vividly remember how amazing the flavors were with the curry. Spicy yet floral, unfolding from savory to sweet. Sadly, this chocolate bar is being discontinued, and I can't find it in Michigan, so I set out to make something new!
Muan Jai blend is a washed coffee from the northern hills of Thailand. This coffee has a medium acidity, full body and complimentary flavors of chocolate nuts and cinnamon. The farmers are members of a Fairtrade cooperative and receive a Fairtrade certified price.
Did you know that Muan Jai means wholehearted happiness in the KumMuang Thai language?
Muan Jai blend with spicy curried walnuts
Ingredients
1½cups walnut halves
1 cup sugar
½ cup brewed Starbucks Muan Jai blend
1 teaspoon curry powder
½ teaspoon cayenne pepper
½ teaspoon ground black pepper
½ teaspoon kosher salt
1½ teaspoons pure vanilla extract
Instructions
Preheat oven to 375 degrees. Prepare a sheet pan with parchment paper. Arrange walnut halves in a single layer. Bake for 5 minutes. Remove from oven and set aside.
While the walnut are in the oven, in a 2 quart saucepan combine sugar, coffee, curry powder, cayenne, pepper and salt. Cook and stir until sugar dissolves and comes to a boil. Stop stirring and insert a candy thermometer and cool until mixture reaches the soft ball stage (236 degrees).
Remove from heat, add vanilla extract and stir for 1 minute. Add walnut halves, stirring until all of the walnuts are well coated.
Pour mixture on parchment and separate using two forks.