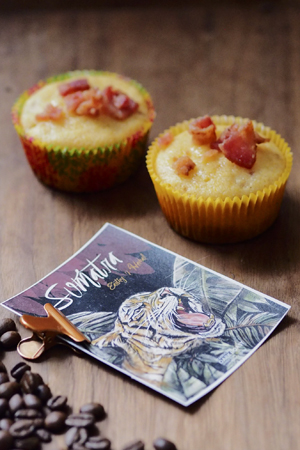 A few weeks ago we were talking about our favorite coffees, and my favorite Starbucks core coffee is (usually) Sumatra.
I remember when I was a new barista, drinking Sumatra for the first time paired with a maple scone and cheddar cheese, and I was blown away how this coffee paired with sweet and savory. Sumatra is earthy, and herbal and can balance so many different flavors. Maple, cheese, toffee, cinnamon and even mushrooms.
I wanted to take this early memory of Sumatra and a maple scone and reinvent it into something new. The addition of bacon not only compliments the maple, but lends a more savory quality. Bacon and Sumatra are a match made in heaven. <3
One of my goals for 2017 is to really focus on our core coffees. This is a challenge for me because I love the reserve brand,  I love trying different coffees, different processing methods, and I love hearing all the stories that accompany these coffees. Unfortunately, most stores (my store included) don't have access to these coffees, so it only makes sense to celebrate the beans that are in every Starbucks store. If there is a specific core coffee you would like me to post about, please drop me a line 🙂
Sumatra was first offered in 1972! This is a semi washed coffee with a low (virtually zero) acidity and very heavy body. If I had to use one word to describe Sumatra, it would be viscous. This full bodied coffee has won my heart, but I am not the only one..
For the past 30 years, I've started each day with a coffee press of Sumatra or, when it's available, Aged Sumatra. Sumatra was the first Starbucks coffee I ever tasted. I encountered it on my first visit to the Pike Place store in 1981. It was distinctive, unmistakable…Sumatra. I described that first sip in my book Pour Your Heart Into It. What I wrote then still describes how I feel about this coffee today.

"As we spoke, the counterman scooped out some Sumatra coffee beans, ground them, put the grounds in a filter cone, and poured hot water over them. Although the task took only a few minutes, he approached the work almost reverently, like an artisan. When he handed me a porcelain mug filled with the freshly brewed coffee, the steam and the aroma seemed to envelop my entire face. There was no question of adding milk or sugar. I took a small, tentative sip. Whoa. I threw my head back, and my eyes shot wide open. Even from a single sip, I could tell it was stronger than any coffee I had ever tasted. Seeing my reaction, the Starbucks people laughed, 'Is it too much for you?' I grinned and shook my head. Then I took another sip. This time I could taste more of the full flavors as they slipped over my tongue. By the third sip I was hooked." – Howard Schultz
Starbucks Sumatra taster card designed by Becca Turner.
maple bacon cornbread muffins
Ingredients
1 cup yellow cornmeal
¾ cup flour
1 tablespoon baking powder
¾ teaspoon kosher salt
2 eggs, lightly beaten
¾ cup pure maple syrup (use the real stuff, please)
¾ cup whole milk
¼ plain yogurt
3 tablespoons corn oil
12 slices of bacon cooked and crumbled. Reserve 4 for the topping.
Instructions
Preheat oven to 350. Lie muffin tin with miffin liners.
In a medium bowl, stir together the cornmeal, flour, baking powder and salt. Make a well in the center and set aside.
In a seperate bowl combine the eggs, maple syrup, milk, yogurt and oil. Pour into the well of the cornbread mixture, stirring until just moistened. Fold in the 8 slices of the crumbled bacon.
Spoon the batter into the muffin liners, about ⅔ of the way full. Bake for 22-25 minutes.
Top with the remaining for slices of crumbled bacon and drizzle with maple syrup if desired.
Best when served warm (and with butter!)