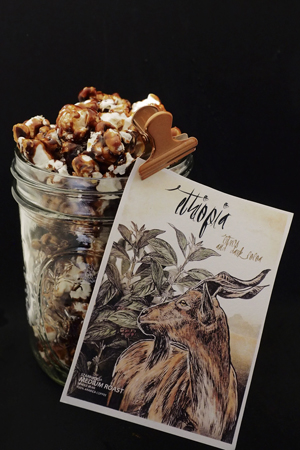 The coffee ceremony is one of the most of the most recognizable parts of Ethiopian culture, and an invitation to attend a coffee ceremony is considered a mark of friendship or respect. The ceremonial hostess will roast green beans in front of the guests before they are ground and brewed. The hostess mixes the ground coffee with spices, and pours them into a clay pot called a jebena. The coffee is served with plenty of sugar, salt or even butter and often complemented by a traditional snack such as popcorn or peanuts. This is the main social event, performed up to three times daily, to take time to talk about politics, the community and life.
I wanted to pay tribute to this tradition, pairing Ethiopia with popcorn and peanuts, coated with a cayenne infused coffee caramel.
Ethiopia is a washed coffee with a high acidity, medium body, velvety with notes of dark chocolate, peppery spice and citrus. This is a coffee that is fantastic in a press, chemex, or even as a cold brew. Super versatile and a piece of coffee history.
I have been playing with different ways to taste and experience coffee. If you've been around long enough, you might remember when Starbucks had the aroma lab. It was a portable kit with little bottles to help identify scents; citrus, cocoa, earthy.spicy, etc. (If you want to see a post about the aroma lab, drop me a note!) Instead of using a wooden tray as a tasting board, I decided to make it portable and use a wine glass!
In the glass I added dark chocolate, a habanero pepper, orange thyme and fresh orange slices. The result is a tangle of scents that truly embodies Ethiopia. I am pretty obsessed with making these sensory glasses, and this is something you will see a lot more of! They are just so much fun to put together, and allows me to really play with food styling!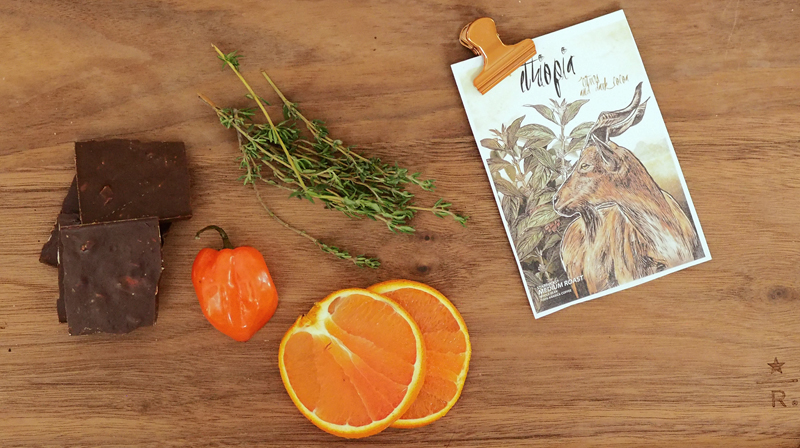 Ethiopia coffee card drawn by Becca Turner.

Ethiopia with spicy coffee popcorn
Ingredients
10 cups popcorn
1 cup salted peanuts
2¼ cups dark brown sugar
½ cup light corn syrup
½ cup brewed Ethiopia (french press if possible)
½ cup butter
2 heaping teaspoons of cayenne pepper
1 tablespoon pure vanilla extract
Instructions
Preheat the oven to 225 degrees. Prepare a large metal bowl with cooking spray. Add popcorn and peanuts in the bowl and place in the oven to keep warm.
In a large saucepan combine brown sugar, corn syrup, coffee, butter and cayenne pepper. Cook over medium heat, stirring occasionally. Insert a candy thermometer and cook until mixture reaches the hard crack stage (290 degrees). Remove from heat and stir in vanilla extract.
Pour syrup over the popcorn and peanuts in a steady stream. Mix well until popcorn is completely coated.
Separate into small clusters using two buttered forks. You'll have to work quickly, as this sets fast!