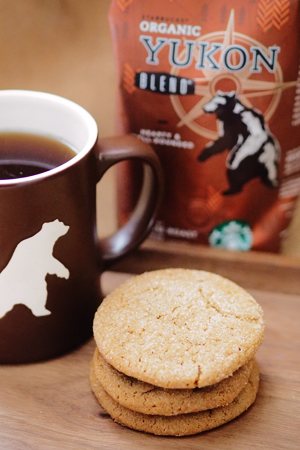 According to Starbucks legend, Yukon Blend was the winner of a "name that blend" contest. Yukon blend was created in 1971 for one of Starbucks original customers, the captain of a fishing boat in the Bering Sea. He wanted a blend for his crew that could stand up to the frigid mornings and long days of fishing in the cold waters where the Yukon River meets the Sea.
This hearty and well rounded blend pairs well with oatmeal and cinnamon, but has toasty notes that I thought might pair well with brown butter. But then I got to thinking, what if I infused butter with coffee and then browned it?
And then coffee brown butter was born.
Yukon blend is a medium roast coffee with a full body and medium acidity. With exotic flavors from Latin American beans and smoothness from the Indonesian beans, Yukon is big and balanced with assertive earthy tones. This is a fundamental concept in coffee blending; the use of a full bodied coffee mutes the acidity of other parts of the blend. Yukon is sometimes referred to as the "next step" beyond house blend. If you are looking for an interesting tasting, try tasting House Blend, Yukon Blend and Sumatra. Note the acidity of House blend compared to the earthy, viscous Sumatra and how those two characteristics come together in Yukon blend.
Did you know that Yukon is the main component of Caffe Verona?
Yukon is one of my favorite core coffees. Not only is it absolutely delicious, but it is also our only certified organic coffee! It pairs well with oatmeal, chocolate, cinnamon and raisins. One of my favorite pairings is an oatmeal raisin cookie, but today we are going to explore a different type of cookie. Coffee infused brown butter cookies.
Brown butter is made by cooking unsalted butter until the milk solids turn brown, while cooking out any water that may be present in the butter. The flavor is almost nutty, with a deeper, but with a deeper, richer more intense flavor than melted butter. That richness and intensity is perfect for baking, and adding coffee to the mix is genius.
I started this experiment early in the morning. Two sticks of butter, a cup and a half or so (I didn't measure) of whole bean Yukon and a crock pot. I set the crock pot to low, and went about my day. Several hours later I came home, and the whole house smelled like coffee! The next step was to strain the butter from the beans. Even though we started with 2 sticks of butter, the beans sucked up a lot of moisture, so I ended up with 3/4 of a cup of butter. You could use less whole bean and yield a greater amount of butter, but I didn't want to sacrifice flavor. You will need approximately 3 sticks of butter for this recipe. It's worth it, pinky swear. 🙂

Coffee browned butter cookies with Yukon Blend
Ingredients
¼ cup granulated sugar
¼ cup light brown sugar
3 sticks of unsalted butter, divided
2 cups whole bean Yukon blend
1¼ cup dark brown sugar, packed
2 c. + 2 tablespoons all purpose flour
½ teaspoons baking soda
¼ teaspoons baking powder
½ t. koshersalt
1 large egg + 1 egg yolk
1 tablespoon pure vanilla extract
Instructions
In a crockpot, melt two sticks of butter with 2 cups of whole bean Yukon. Let cook on low for several hours.
Preheat oven to 350 degrees and prepare 2 baking sheets with nonstick spray or parchment paper. Set aside. In a shallow bowl or large plate, combine the light brown sugar and the granulated sugar.
Strain coffee beans from the butter. You should end up with about ¾ cup of butter. In a sauce pan, add the coffee butter and 4 tablespoons of butter. Melt over medium to low heat. Reserve the remaining 4 tablespoons of butter in a medium sized glass bowl. Swirl the pan over the heat until all the butter is melted. Cook until the butter is a dark copper colors and you will start to notice a nutty or toasty aroma. This is a bit more difficult since the coffee alters the color and smell of the butter. Once the butter is browned, pour over the remaining butter in glass bowl and set aside for at least 15 minutes.
While you are waiting for the butter to cool, whisk together the flour, baking soda and baking powder. Set aside.
In a stand mixer, add the dark brown sugar and the browned butter mixture. Beat on high until smooth, about 1-2 minutes. Add kosher salt, egg yolk, egg and vanilla extract. Beat until full combined. Gradually mix the dry ingredients in, being careful not to over mix.
I put the dough in the refrigerator for a few minutes so it's easier to work with. Take a small amount, about 1½ tablespoons, and roll into a ball. Roll the ball of dough in the sugar mixture and place on pan. These cookies will spread a bit, so make sure you leave a few inches between cookies. Bake for 12-13 minutes, let cool on cookie sheet for a few minutes and transfer to a wire rack.