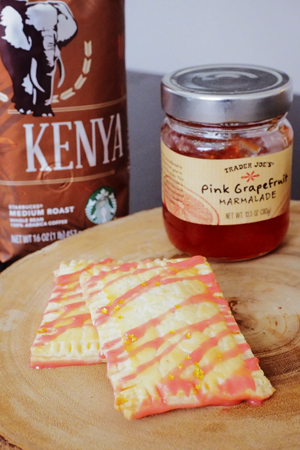 Well, hello there! It's been a little while. I took a little social media hiatus, but now I am back and ready to get back to business!
Recently, I noticed Trader Joe's started stocking this pink grapefruit marmalade, and I knew immediately what I wanted to do with this. With it's  unmistakeable grapefruit notes, this marmalade scream to be paired with our core Kenya. These pop tarts are so simple to make, but they make for a perfectly impressive coffee tasting.
I think Kenya is one of those coffee that baristas always remember. I'm almost positive that most partners first coffee tasting has to be Kenya paired with a lemon loaf. (I have done countless first impressions with this tasting) It's one of those tastings that strikes you, one that  you remember. Those intense citrus flavors, grapefruit most notably, take a coffee tasting to "this just tastes like coffee" to "whoa, this is intense".
Juicy and complex, Kenya has a high acidity and a medium body. Pairs well with blackberries, currant, and of course, grapefruit. Kenya is one of those coffees that can stand up in so many different brew methods. I love it as a pour over, and for this tasting I used my toast pour over. It also makes an incredible cold brew. Perfectly crisp and refreshing.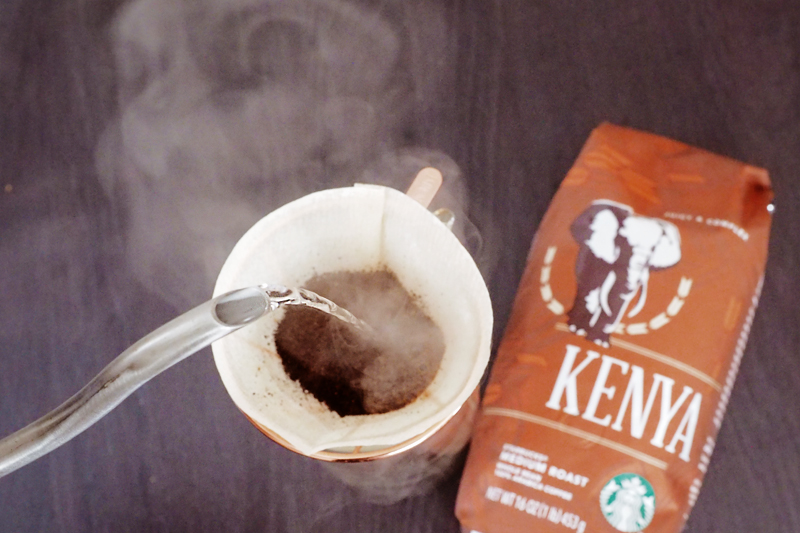 Making poptarts sounds like a lot of work, and it can be. You can make your own pastry dough from scratch… or you can just buy pre-made pie crusts. You can make your own marmalade… or you can pop over to Trader Joe's and buy some. The choice is  yours. While I do honestly love baking, sometimes, there are just not enough hours in the day. This is a quick and easy way to put together a coffee pairing that will impress!

Kenya with pink grapefruit poptarts
Ingredients
1 (15 ounce) package refrigerated pie crusts
¼ cup pink grapefruit marmalade, divided
2 cups powdered sugar
2 tablespoons milk
½ teaspoon pure vanilla extract
food coloring and decorating sugar if desired
Instructions
Preheat oven to 425 degrees. Line baking sheets with parchment paper.
Unroll the pie crusts, place on a lightly floured work surface, and roll the crusts slightly with a rolling pin to square the edges. Cut each crust into 8 equal-sized rectangles. Place about 2 teaspoons of the pink grapefruit marmalade in the center of 8 squares, and spread the jam out to within ¼ inch of the edge of the pastry square. Top each with another pastry square, and use a fork to crimp the squares together, sealing in the marmalade. Use a knife to trim the pastries, if desired. Move the filled pastries to the prepared baking sheets.
Bake in the preheated oven until the edges are lightly golden brown, about 7 minutes. Allow to cool on the baking sheets. Meanwhile, stir together the powdered sugar, milk, and vanilla extract in a bowl. Add a few drops of food coloring if desired. Spread over the now cooled pop tarts and garnish with sprinkles.
*If you don't live near a Trader Joe's (trust me, I understand the pain as the closest one is 90 miles away) you can pick up some from Amazon.