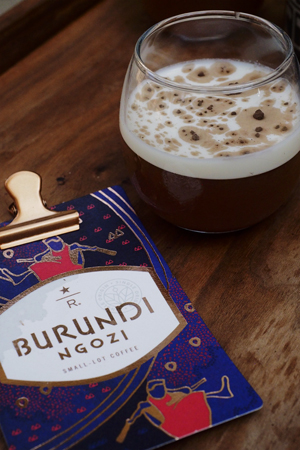 Now that Burundi Ngozi is back, I am just a little bit obsessed with it, and I am sure you'll see more pairings with this coffee. I have been so busy lately, and this coffee has really motivated me to get back into developing recipes and pairings. It is what I love to do most after all! Two updates in one week is pretty much unheard of over here, so enjoy it while it lasts! 😉
Last week I was asked to do a coffee tasting, and as I mentioned in my previous post, Burundi Ngozi was the first reserve coffee I had when I moved to Seattle. This pairing is actually inspired by a pairing I did for this coffee and my original blog (which never saw the light of day) but it was so good, I really wanted to bring it back… so here it is!
I literally, just two days ago posted about Burundi Ngozi, and it seems repetitive to  type in all the flavor notes and fun facts about this coffee. Head on over to this post for more information about Burundi Ngozi.
One of my favorite things is using coffee and tea together. Bonus points if the tea can help transform the coffee. This pairing is a perfect example of this.
Royal English Breakfast tea jelly
Ingredients
1 cup + 2 tablespoons water
1 bag Teavana Royal English Breakfast tea
1 packet unflavored gelatin
2 teaspoons granulated sugar
1½ tablespoons sweetened condensed milk
1½ tablespoons of half and half
orange zest and cocoa powder (optional)
Instructions
sprinkle gelatin over 2 tablespoons of cold water. Allow to bloom.
While the gelatin is blooming, heat the remaining cup of water, and steep tea for 5 minutes.
Remove tea bag (or strain if using looseleaf) and add gelatiin and sugar. Stir until completely dissolved.
Pour tea mixture into four miniature cups. cover and let chill in the refrigerator until set, about an hour.
Combine condensed milk, half and half and orange peel (if using)* Pour a layer of milk on top of the jelly. Dust with cocoa powder.
*I triple the recipe for cream and store it in a squeeze bottle. It's easier to mix and transport this way, plus I like a lot of cream because it is delicious.
Tea jelly is really fun to make, and experiment with different flavors. My personal favorite is
Teavana
Earl Grey creme, topped with a vanilla beam cream. A spin off of a London Fog! A lot of people ask where I get my mini dessert dishes. Amazon, of course! This
particular set of mini bowls
is my absolute favorite.
Have you ever made or had tea jelly? What did you think? Shout out in the comments about any teas that would be good this way!