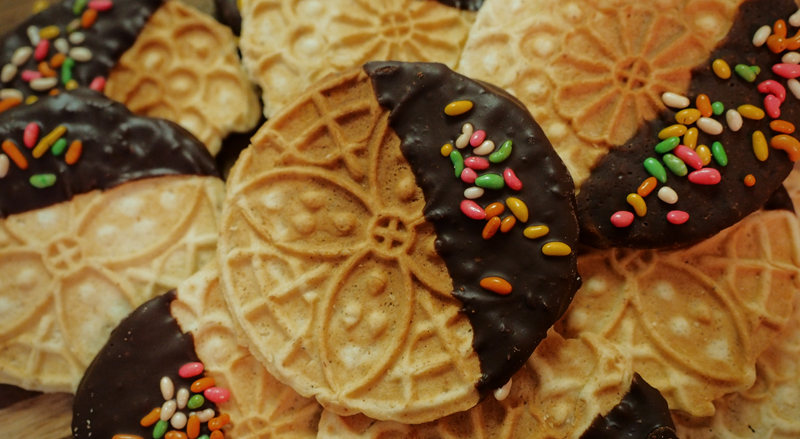 I first had Cameroon Mt Oku at the Roastery. It was in the cold brew rotation, and I quickly fell in love. It was light, yet rich, and had this long lingering flavor that took me quite a while to pinpoint. Fast forward to a few weeks ago, I tried the Cameroon Mt Oku on the clover. The same familiar flavor was present. It finally hit me; mace. Mace is a delicately fragrant spice, think of it as nutmeg's less sweet (and more intense) cousin.

Initially I was going to play with the flavors of chocolate and coriander together, like a spiced chocolate chip cookie. Somewhere along the way, I remembered that tucked away in a cabinet was a pizzelle iron, something I haven't used in years… Pizzelle's are traditionally flavored with anise, so I decided to play with different spice and intensities. Once I started making the pizzelles, the tasting idea became stronger and stronger. I decided to pull out the chocolate notes in this coffee by dipping the pizzelles in dark chocolate that I had flavored with ras el hanout. Finally, these are topped with candied fennel seeds, overpowering at first bite, but truly makes the spices pop.
In order to make pizzelles, you have to have a pizzelle maker. It is not something I use often, but I am so very glad to have one. With this, not only can you make pizzelles, but you can make waffles cones, tacos (homemade choco tacos?!) and even fortune cookies. I have this model, which is a mini pizzelle maker.  If you are looking for full size, this one is also very nice.
I use candied fennel seeds quite a bit, and they are not the easiest thing to find. Thank god for Amazon 😉 I love using these because they provide such an unexpected flavor. Most people think they are just sprinkles, until they bit into them and get that great licorice note.

Ras el Hanout pizzelles
Ingredients
3 large eggs
¾ cup sugar
1 heaping teaspoon of ras el hanout (recipe below)
1 stick unsalted butter, melted and cooled
1 tablespoon vanilla extract
1¾ cups all-purpose flour, sifted
2 teaspoons baking powder
dark chocolate and candied fennel seeds for decoration (optional)
Instructions
Beat eggs, sugar and ras el hanout in a mixing bowl approximately 2 to 3 minutes.
Slowly drizzle in melted butter and add vanilla extract.
Fold in flour and baking powder just until incorporated into the wet ingredients.
Bake one tablespoon per mold in pizzelle maker until golden brown, about 30 seconds.
Remove and cool on rack. Use kitchen shears to trim the pizzelle if necessary
Notes
If you would like to dip these in chocolate like I did, simple melt dark chocolate chunks in a double boiler. Once melted, dip the cookies and then place on parchment to cool. Sprinkle with candied fennel seeds, or plain sprinkles if desired. To speed up the process, I popped the decorated cookies into the freezer for 5 minutes to set.
Let's talk about Ras el Hanout. Ras el Hanout is a North African spice mix that translates to "top shelf". There is no exact recipe for this spice mix, as each shop or family have their own blend, however, it is suggested that there are 12 different spices & herbs that make up this blend,  including; coriander, cardamom, cumin, clove, ginger, mace, nutmeg, fenugreek, fennel seed, long pepper, paprika and rosebud. That's quite a shopping list! If you don't want to make your own Ras el Hanout, Trader Joe's has an excellent blend that I really like, and is what I used in this recipe as well!
If you want to make your own, here is a great recipe!

Ras el Hanout
Ingredients
2 teaspoons ground nutmeg
2 teaspoons ground coriander
2 teaspoons ground cumin
2 teaspoons ground ginger
2 teaspoons turmeric
2 teaspoons salt
2 teaspoons cinnamon
1 1⁄2 teaspoons sugar
1 1⁄2 teaspoons paprika
1 1⁄2 teaspoons ground black pepper
1 teaspoon cayenne pepper
1 teaspoon cardamom powder
1 teaspoon ground allspice
1⁄2 teaspoon ground cloves
Instructions
Blend all spices together. Store in an airtight container.
Have you tried the Cameroon Mt Oku? What did you pair it with?